This Site is Compatible to Smart Phones & Tablet Computers.

Inforcom starts OVIS - Human Volunteers Tracking in Bangalore
December 16th 2015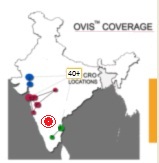 Inforcom has successfully commenced their first installation of OVIS in Bangalore. A multinational CRO in Bangalore has started volunteers cross participation tracking. The CRO wishes to obtain clean volunteers. Further the health of the volunteer is also a priority for this CROs. They shall be checking the volunteers with records of south India. Currently OVIS in South India is active in Chennai, Coimbatore and Hyderabad. On request the cross checking is availed across the country. Thus the matching will be with 46th CRO locations in 11 cities of India. Any Volunteer taking part across the country will be checked for re-participation.
Copyrights@2014.