This Site is Compatible to Smart Phones & Tablet Computers.

Inforcom starts OVIS service in Bangalore
December 17th 2015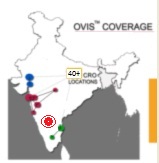 OVIS - the Online Volunteers Information System - India`s country wide volunteers tracking system for Ba/Be studies, now starts in Bangalore, south India. The service is already on in Chennai and Coimbatore in other cities of south India. OVIS is operational in 10 cities countrywide. The CROs of Mumbai, New Mumbai, Delhi, Ahmedabad, Vadodara, Pune, Goa, Aurangabad, etc. take advantage of OVIS. They get risk-free healthy volunteers for the studies. Further the drug over dose can also be avoided on this volunteers. OVIS is a validated and compliant application as per USFDA CFR 11 standard.
Copyrights@2014.