This Site is Compatible to Smart Phones & Tablet Computers.

#Inforcom to offer #SMS based @Project Announcement tool for CROs
January 25th 2018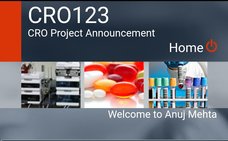 Inforcom Tech is one of the leading IT firm in offering CRO #SoftwareSolutions for CRO across India.
#CROs (Contract Research Organization) need to announce the @ClinicalStudies in order to avail the #HumanVolunteers. Over the period of time the volunteers call the CROs in search of studies. This leads to around 200 calls a day ! This large #CallTraffic requires few CRO personnel to be dedicated only to answer calls ! What waste of staff !
Inforcom now offers these CROs a #SMS based Project Announcement system. This #UserFriendly app shall send the project info to the volunteers. No CRO staff to be dedicated! This service is in 7 Indian Languages - #English, #Hindi, #Gujarati, #Kannad, #Malayalam, #Tamil and #Telugu. The CROs get the stats reports and #HitReports of the ads posted along with the volunteers details.
Copyrights@2014.